The invitation to Pro-Аm world
On the one hand it's short for professional-amateur and describes a dance movement which consists of a professional and amateur dancers.
On the other hand Pro-Am is a mix of sensations, beauty and fantastic heat of nerves, surge of emotions, originality and delight. Pro-Am is the shortest road to the beautiful world of ballroom dance. And a professional teacher-dancer helps a newbie to travel this way.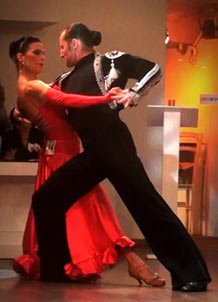 The crazy rhythm of life, inescapable problems at home and at work make it difficult to enjoy yourself for some people. But when an adult, disappointed, tired person comes to the ballroom he finds there what he hasn't: the festal atmosphere and great impression, brilliant company and new hobby, relaxation and many friends. The Pro-Am means to get the brilliant expressions and to feel the atmosphere of festival! And this great feeling of a daily festival attracts more and more positive, cheerful people who don't want to stint themselves only with their career and housework. No matter how their out of the ballroom lives forms, on the dance floor everyone has a chance to forget about the problems for a while and to feel himself a little better, freely and happy.
On the dance floor the amateur-dancers find both a stylish entourage of a ball and a drive of competition. The Pro-Am system is flexible and gives an individual portion of music and impulse to everyone - from the simple basic to the hard trainings in sport mode, from the rare performances on the dancing parties to all international competitions. Whatever it is: the combination of physical activity and pleasure of dancing, every Pro-Am dancer becomes a part of beautiful and exciting world. And now you see how the first step awkwardness makes way for the charm, you begin to feel the taste of victory; your life becomes bright and excited. Together with Tango and Waltz, Rumba and Jive the passion and ardor, heat and tenderness come into ordinary people's life that knew nothing about dances not long ago. When people dance - they're happy!
That's why Pro-Am should and will be developed. Widely. Without any limits. It presents celebration for everyone!